We want to get to know you!
To stay connected to KidCity and not miss out on a moment of FUN, sign up below!
KIDCITY SERVICE INFORMATION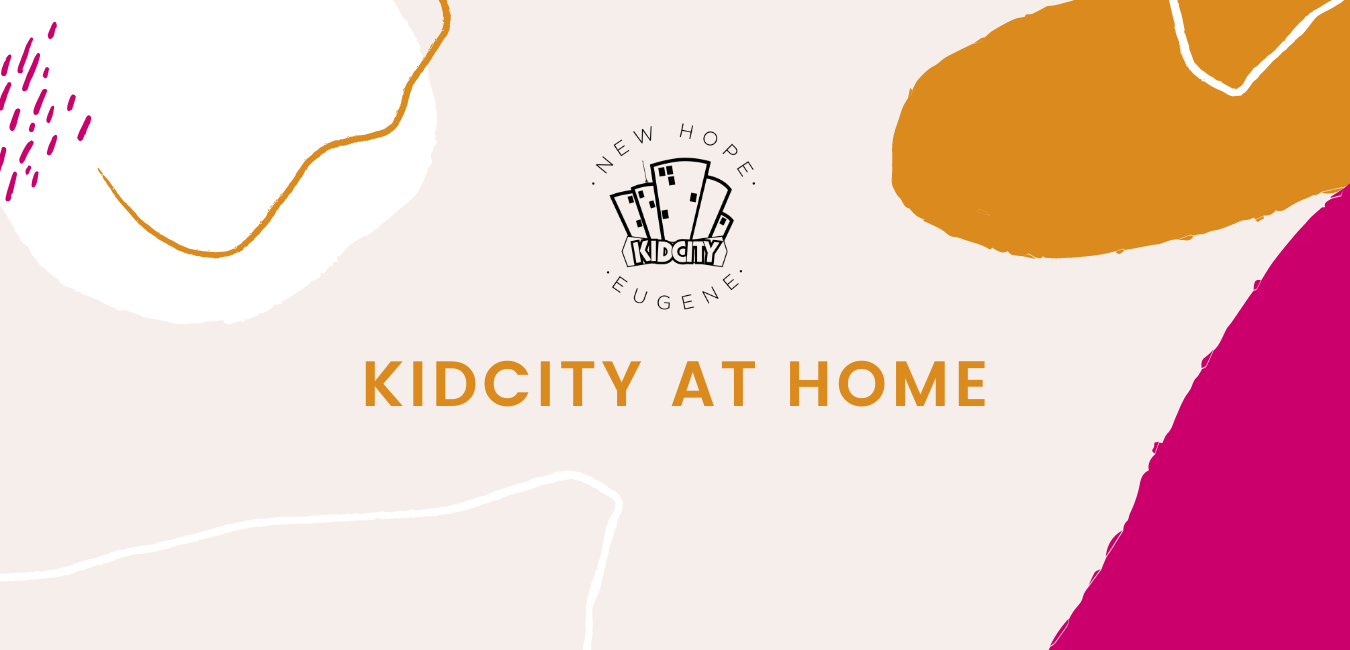 Hey KidCity kids (and parents)! We're bringing all the fun of our KidCity classrooms to a living room near you so you can dance, sing, and learn together with your families! Just click the link below for your child's age to access this week's lesson, read the slides, watch the videos, and have SO MUCH FUN!
Click the buttons below to access all the fun content for your KidCity Kids!


Keep connected with fun content and videos from our KidCity staff on social media!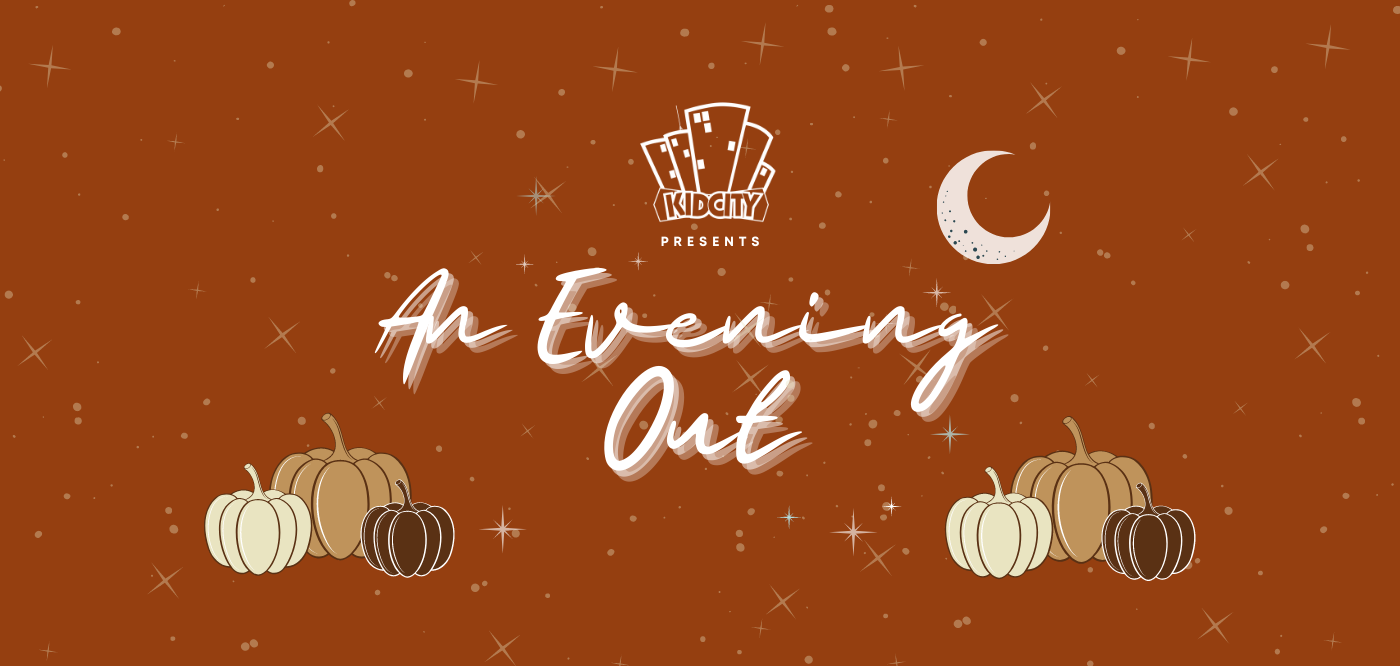 Parents, do you need a BREAK?
Then it's time for an EVENING OUT! Our KidCity team is excited to offer free childcare to give you a break and an opportunity for your kids to have friendly-distanced fun including crafts and other unplugged activities!
Dinner will be served and all KidCity COVID safety policies will be observed to keep your kids safe.
Sign up below, or contact our KidCity team for more information!
More Info about KidCity at New Hope Eugene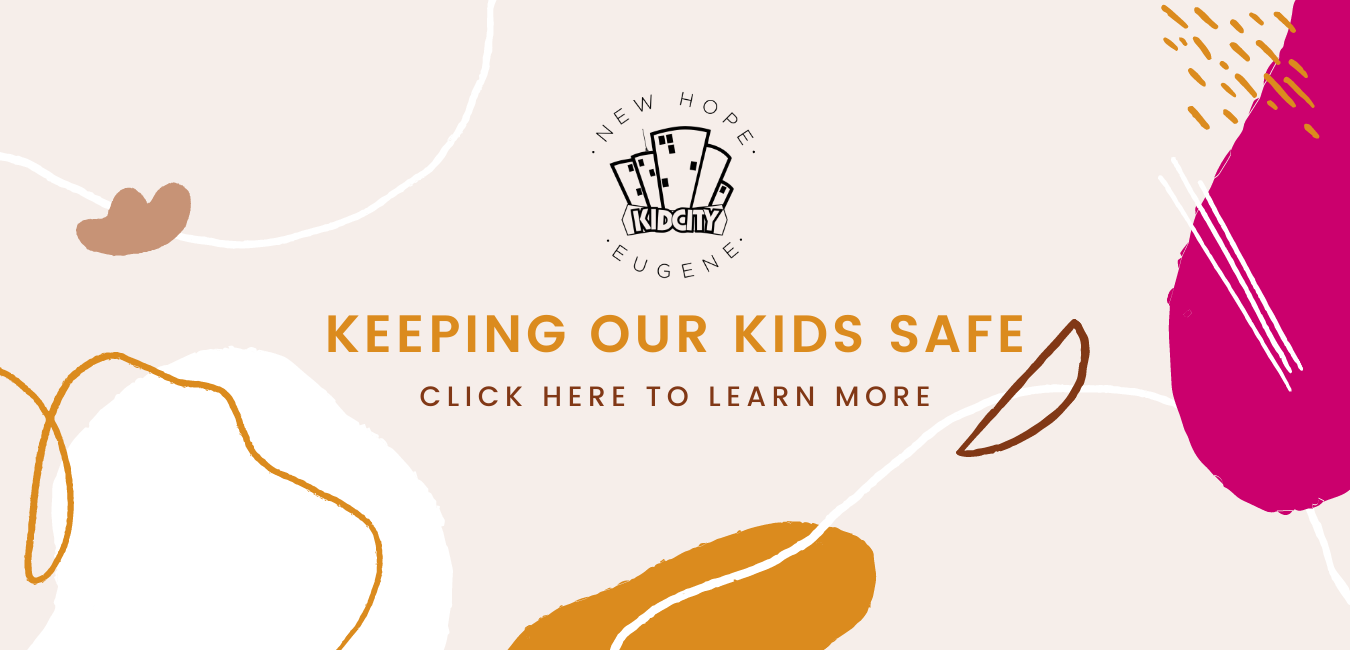 At New Hope Eugene, our kids (infant through 5th grade) experience safe, age-appropriate environments where they can learn about Jesus in a creative and relevant way. The following is information for when our services resume.
Your First Visit
Here's what to expect when visiting KidCity for the first time.

First, find the area marked KidCity Check-in. There we will meet your family, check your child into our system, and then one of our volunteers will direct you and your child to their age-appropriate room.

Upon checking in for the first time, we will ask for the following personal information
(NOTE: We value your privacy and will not share this information with anyone):
Parent/guardian names
Child's name
Child's birthdate
Home address
Phone number
Email
Any special instructions (allergies, special needs) for your children
How Check-In Works
Before service: You can check in your kid from any available kiosk. After looking up your child's information using your phone number, you and your child will be given matching name tags that are exclusive to your family and your visit. Your child will need to wear the name tag portion while you hold on to the matching tag.

After service: After the service is complete, you will return to your child's room and show your tag in order for your child to be released back to you.

During service: In the event we need to contact you during the service, you will receive a text message alerting you and/or your child's identification code will appear on the screen. We ask that you exit the auditorium at that time and return to your child's classroom.
Parent Viewing Rooms
Our parent viewing rooms all have a live-stream from our auditorium so you don't miss a moment while caring for your small children.

Wiggle City: If you'd like to keep your small child with you during service, but they'd like to move around and play, this room is open during every service.

Nursing Room: For moms who would prefer a quieter or more private place to care for their infants.
Additional resources
Got questions?
If you have further questions concerning your KidCity experience or visiting New Hope Eugene with children, simply click the button below and get in touch with us!
Meet our kidcity Team

Pastor Savannah Busby
Savannah Busby is New Hope Eugene's KidCity Pastor. She grew up an hour south of Eugene in a small town called Sutherlin, Oregon.
Savannah's passion for Jesus cannot be missed. When she came to NHE, she started serving on the worship team and eventually discovered a passion for leading kids to Jesus. Savannah knows no strangers and she loves to bring joy to others.

Gianna Murillo
KidCity Admin Assistant
Gianna Murillo was born and raised in Salt Lake City, Utah. She officially became an Oregon resident shortly after completing her Bachelors at New Hope Christian College in 2019.
As the KidCity Admin Assistant, Gianna loves getting to equip volunteers and families to champion their KidCity kids to be world changers for Jesus.
Fun Facts about Gianna: Outside of the church, she loves spending her time exploring the PNW, shopping at Target, trying new snacks from Trader Joe's, and watching Disney movies.

Angelica Petersen
KidCity Curriculum & Programming Director
Angelica was born and raised in Northern California and moved to Eugene, OR during her freshman year at New Hope Christian College in 2013.
Working as the Curriculum and Programing Director for KidCity, she enjoys teaching the kids the weekly bible stories and working alongside her amazing KidCity team.
A fun fact about Angelica is that after she graduated with her Bachelor's of Business, she started her own business in Wedding and Event Planning called Anela Events.
Equipping kids to be world changers for Jesus Christ right now.